When faced with challenges from radiation of head and neck cancer (HNC), one long term concern is how to maintain swallowing function. Research shows that certain exercises help maintain the strength and function of muscles used in swallowing.
This mobile app guides patients through those exercises to learn how to strengthen their swallowing muscles. The app also aids in maintaining a routine during or after radiation treatment, which may contribute to better long term recovery from radiation impact.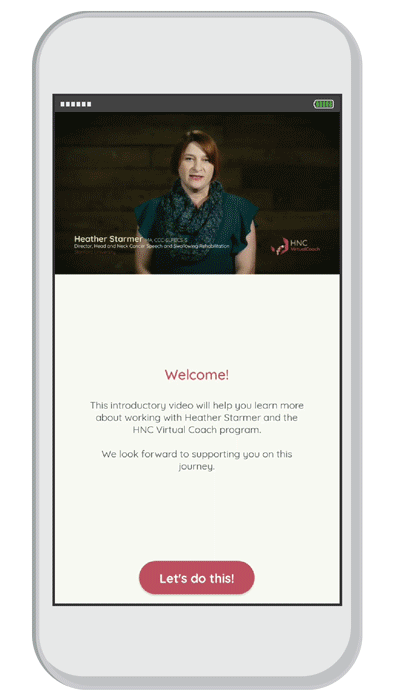 Increase adherence to daily exercise

Improve overall swallow outcomes

Adjust intensity based on reported symptoms

Shape the future standard of care for HNC patients
What can patients expect?
Guided 2x-daily swallowing exercises for 7 weeks




Daily automated reminders




Brief surveys to collect symptom data and to track adherence to exercises




Self-paced challenges and educational content developed to support patients during treatment
HNC Virtual Coach was designed by speech language pathologists seeking to support head and neck cancer patients during a 7-week treatment program.
The project was validated in a multi-site randomized, controlled trial funded by the National Institutes of Health and published in a peer-reviewed journal.
View Full Publication
Why use HNC Virtual Coach?
Created in collaboration with researchers from Stanford Medicine




Customizable app to support patients during radiation treatment




Videos on core swallow and jaw exercises, led by a speech language pathologist




Direct support and monitoring of progress




Educational content focused on swallow and jaw exercises, empowerment, and connection